Meet the Doctors
Our practice is the home of several highly-qualified practitioners. Dr. Thanh Le, Dr. Rob Laquerre, and Dr. Dustin Ho work together to provide their community with the well-rounded care they deserve. Learn more about the professionals behind our practice and what they can offer your well-being.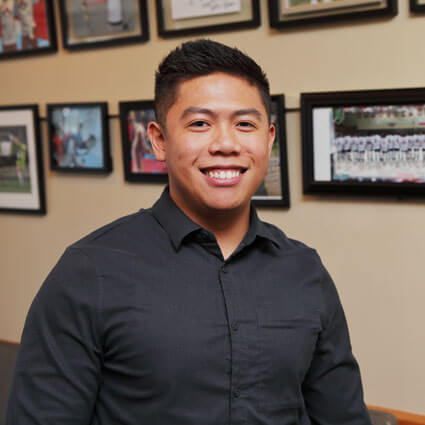 Chiropractor B.Sc. (Hons), D.C., Acupuncture Provider
Dr. Thanh Le spent most of his childhood years in Ottawa playing competitive soccer. Through his love of sports, he developed a passion for helping others, especially after experiencing numerous injuries himself. Dr. Le studied Human Kinetics at the University of Ottawa prior to pursuing chiropractic at the Canadian Memorial Chiropractic College in Toronto and draws on his past athletic experiences, incorporating rehabilitative exercises into his practice.
Areas of Specialty
Dr. Le was part of the Family Health Team at St. Michael's Hospital in his final clinical internship, where he managed several complex cases, including chronic pain, spinal stenosis, neck and low back pain, shoulder dysfunction, osteoarthritis, and osteoporosis. His individualized approach to care involves his patients every step of the way, using the highest quality evidence and therapies to improve function and optimize performance. Today, Dr. Le specializes in the following areas:

Joint mobilization
Spinal and extremity manipulation
Myofascial Release (M.F.R.)
Functional range conditioning
Medical acupuncture
Physical therapy
Individualized rehabilitative exercise
Athletic Performance Training (APT) and taping
Ergonomic and postural assessments
Shockwave Therapy™
Approach to Care
Dr. Le takes a fully comprehensive approach to functional movement, as he teaches his patients that pain is merely a symptom and should not dictate one's ability to move. He provides an individualized plan for each of his patients, where joint health, resilience, and longevity are emphasized through progressive movement exercises. When you meet Dr. Le, you will notice that he values patient education just as much as the manual therapy that he provides. He believes that without a complete understanding of why his patients are experiencing pain or unable to perform certain movements without discomfort, long-lasting changes are unlikely to occur.
Chiropractor B.Sc., B.Sc. (Hons), A.R.T., D.C.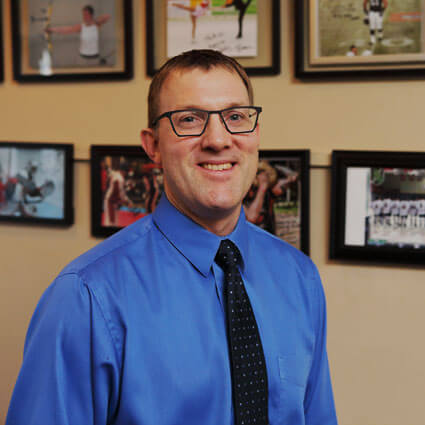 Dr. Robert Laquerre is the fully-bilingual owner and director of Alta Vista Chiropractic & Massage Clinic. He is a chiropractor and acupuncture provider, and specializes in Active Release Technique® (ART®) and Graston Technique. Dr. Laquerre is dedicated to providing his community with a fully-integrated health care centre, complete with superior health care services.
A Passion for Sports
Throughout his career, Dr. Laquerre has helped NHL hockey players, including OHL and minor hockey players, as well as professional golfers and other elite athletes overcome sports-related injuries. Many of these athletes have written letters to our staff which can be viewed in our lobby.
Approach to Care
Dr. Laquerre believes in a well-rounded approach to care. He works with his patients as a "health coach", equipping them with an improved knowledge of exercise, pain management, nutrition, and stress management. Consequently, Dr. Laquerre's patients achieve levels of physical and mental health they did not believe were possible.

Areas of Specialty
Spinal and extremity manipulation
Joint mobilization
Active Release Technique (ART)
Soft Tissue Therapy
Myofascial Release Techniques (MFR)
Acupuncture
Acute and Chronic Pain Management
Sports Injuries
Spinal Stenosis
Shockwave Therapy™
Physical therapy, Interferential Current (IFC), Ultrasound, Laser, TENS
Individualized rehabilitation
Athletic taping
Ergonomic and postural assessments
Education and Experience
Dr. Laquerre is a graduate of The National College of Chiropractic and has completed a post-graduate certification course in the advanced diagnosis of and care for shoulder issues. In addition, Dr. Laquerre has lectured extensively on workplace wellness programs for many private and public organizations. Two of his most recent clients include Canada Post Corporation and JTI MacDonald Corporation. In addition to his lectures, Dr. Laquerre also performs on-site ergonomic assessments. These programs have contributed to improved productivity and happiness of employees within the corporations which he serves. Dr. Laquerre has also participated as a health expert with Ottawa-based radio stations and newspapers and he has been a presenter at the Academy of Medicine in Ottawa.
Additional Accreditations
Dr. Laquerre is a holistic health expert. Through years of hard work, he has achieved the following accreditations:
Doctor of Chiropractic – The National College of Chiropractic, 1998
Diplomat of the National Board of Chiropractic Examiners USA – Part I-IV, 1998
Certified Kinesio Tape provider
Certified Spider Tape provider
Graston Technique® certificate-holder
Bachelor of Science in Human Biology – The National College of Chiropractic, 1996
Bachelor of Science with Honours Environmental Science Chemistry – Queen's University, 1995
Certified Active Release Technique® (ART®) provider
Acupuncture certificate-holder
Certified carpal tunnel care provider
Lumbar Spinal Stenosis provider
Not only is he decorated in academic achievements, but Dr. Laquerre is also actively involved in several professional committees, including:
The Ontario Chiropractic Association
The Canadian Chiropractic Association
The Eastern Ontario Chiropractic Society
Canadian Memorial Chiropractic College
The National University of Health Sciences
The Academy of Medicine of Ottawa
Acupuncture Council of Ontario
Dr. Dustin Ho, BA Kin (Hons), R.M.T., D.C.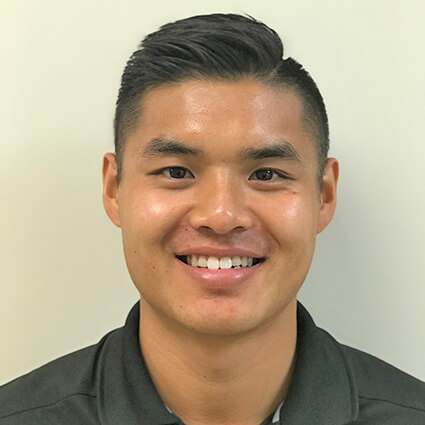 Dr. Dustin Ho grew up in London, Ontario playing various sports including soccer and football. After experiencing multiple injuries throughout his athletic career, Dr. Ho underwent various treatments and rehabilitation, and these experiences helped develop his desire to help others recover from injury and maximize their performance. After receiving a Bachelor's Degree in Kinesiology from Western University, Dr. Ho went on to complete a diploma in Massage Therapy at Sutherland-Chan and obtained his Doctor of Chiropractic Degree from the Canadian Memorial Chiropractic College (CMCC).
Clinical Experience
During his Massage Therapy education at Sutherland-Chan, Dustin was involved in various specialty clinics working with seniors, athletes, pregnant women, and patients suffering from central nervous system (CNS) conditions, as well as doing a placement at Toronto General Hospitals working with patients before and after surgeries.
During his final year at CMCC, Dr. Ho spent the first 6 months of his clinical internship as part of the Family Health Team at St. Michael's Hospital in Toronto. There he worked closely with physicians and other medical professionals to manage complex cases including spinal stenosis, chronic pain, osteoarthritis, osteoporosis, shoulder dysfunction and various other spinal and extremity complaints. His second placement took place at CMCC, where he treated a different population including student-athletes and corporate employees. He gained valuable experience in treating postural dysfunction as well as expanding his knowledge of the rehabilitation process for patients recovering from sports injury.
Approach to Care
Dr. Ho believes strongly in finding and treating the root cause of dysfunction, rather than focusing solely on pain. He uses an evidence-based and patient-centered approach dedicated to educating the patient regarding the cause of their symptoms as well as how they can work to improve those symptoms. Dr. Ho also has a passion for fitness and believes that rehabilitation as well as preventative exercise play an important role in optimizing function and avoiding injury. He works with each patient to create an individualized approach to care that best suits their needs.
Get the High-Quality Care You Need Now
Alta Vista Chiropractic & Massage Clinic proudly houses several highly-skilled alternative health care professionals. No matter your needs, our practitioners have you covered!
EXPLORE OUR SERVICES »
Be sure to contact our practice to get started on your journey to better health.

Meet the Doctors | (613) 731-5775